The world is not kind to nice people. Why is that?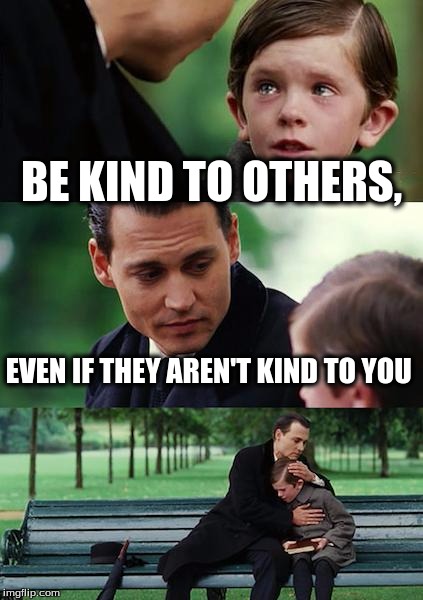 Don't expect me to have an earth shattering answer to that question, as I don't. All I know for certain is that no matter how kind or understanding or giving we sometimes are, the world likes to stomp the kindhearted down.
I wonder if the exceptionally nice people just feel the judgment of others more fully? Do we care too much and that is why slights whether directed at us or directed at others, of even the simplest type get under our skin? Do people know that is what happens to us and they get delight out of the little pokes and slices here and there just to see us crumple and break down? Gossip and rumors may only be words, but their edges are as sharp as a knife.
I wonder these things now and then as I go about my workday and see the scenes played out again and again. The difference between me and others with this affliction is that I feel the hurt very deeply, yet I smile through it and laugh as usual, as though the person with the sword is a fool and has no power over me, when in truth, sometimes they are tearing me apart on the inside. Some are not as lucky as me to have that exterior shield.
I don't know where this is going. I'm just off some days at what I see and what I hear and the heartlessness of others. I wish I could be mean and less kind. I wish I could care less what others do, think, and say. I wish I could step back and lose some of my emotions. Instead, I will smile and laugh, and I will move forward one step at a time with no one the wiser of the struggles I may or may not be facing. I will read more and paint more and I will write me. Some days that is enough.
The real and in my face reality is that maybe I need a different day job. There are too many emotions involved in family law. After 20+ years of being enmeshed in it, maybe I simply can't push it aside anymore. Remember that the next time you have "just one simple questions" for me about your divorce or child custody case or adoption that isn't going well. Please. Please. Just don't.